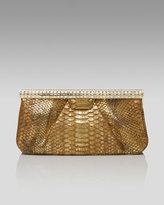 Did you know that the sale of python bags is illegal in the state of California?
IN New York, animal rights campaigners are protesting the use of leather and skins as inhumane. In Beverly Hills, shopping rights militants are outraged for a different reason: they can't find a pair of those sexy python pumps anywhere.
Neither Gucci, Barneys nor Chanel stock the popular snakeskin in their Los Angeles stores. In California, the sale of python skin or parts has been outlawed since 1970, around the same time the federal Endangered Species Act of 1973 was being discussed and formulated. Importing or shipping the species or products made from it into the state for commercial purposes is illegal. Violators face a maximum fine of $5,000 or a six-month stay at a county jail.
How to overcome such obstacles to achieving the reptile look has become the talk of the West Coast's fashion elite. One wardrobe stylist orders from Gucci in Hawaii, which will mail it to 90210 and neighboring ZIP codes. Other shoppers fly to Las Vegas. It's legal to bring your own python across state lines, as long as you don't plan to sell it.
If you love the look but can't take a chance on the purchase there are some pretty good fakes!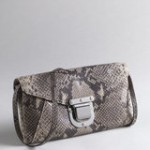 Source: New York Times