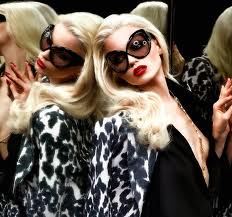 There is nothing like a new pair of shades to bring out your inner diva and if you are like me, a sunglasses shop has the ability to cause whip lash almost as quickly a shoe store. There are so many choices and if you are concerned about the type of sunglasses to purchase here are a few things to consider:
Nylon or composite frames for durability.

Wire-core temples for snug and form-fitting adjustability.

Glass lenses offer better optics and are more scratch-resistant. Plastic lenses are more shatterproof.

Lens must filter out 100 percent OVA and UVB.

Lenses that filters out infrared light will reduce eye fatigue from intense sun conditions.
Now that we got that out of the way, I still am apt to go for style first. Maybe it is because I am not an easy fit, but when I narrow it down to a few pairs from which to choose, I will then consider the protection that they offer. As in any fashion accessory, there are knock offs or similar styles in less expensive brands. I am not promoting buying counterfeit merchandise, I am talking about some of the lower end versions of designer glasses. These are great if you like variety. I know myself well enough to know that eventually, they will end up on the top of my head, in the bottom of my bag, or in the car seat next to me out of their case so I am reluctant to go for the big bucks. That is not to say I am careless or unappreciative of my nicer accessories. It is more a matter of leaving out steps when I am busy. There was the time that I was wearing a beautiful pair of Chanel frameless shields and they literally fell off my face when I bent over to pick up they keys I had dropped. Where was the negligence there? I will never own a pair of super expensive sunglasses even if you want to give them to me because I know what I'll do to them. It is a tremendous responsibility!
For spring and summer 2011, glasses are as large as ever. I thought they would shrink in size again, as soon as I filled my drawer with the large lensed versions but they are still going strong. There are some very high tech funky versions out there too that are reminiscent of some of the 1980′s MTV videos as well as the original Ray Ban Wayfarers. If you don't want to break the bank, there are some moderately priced sunglasses by Tory Burch, Tom Ford, Prada, RayBan, and Versace. You can expect to pay more for Fendi, Dior, Chanel, Burberry, Gucci and Bulgari. For me, it is all about the color, shape and the fit and having enough money left to buy a pair of shoes!
Fendi: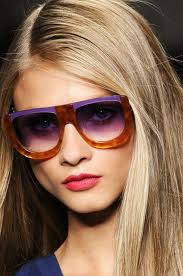 Versace: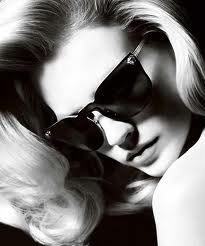 Other looks: