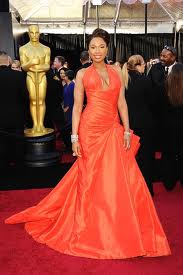 It wouldn't be the day after the Oscars without some discussion of the worst and best dressed at the event. Jennifer Hudson gets my vote, not because it was the most beautiful dress on the runway, but because it was beautiful on her. I am partial to shades of orange and the deep tangerine Versace was perfect for her skin tone even if it did have a bit of a prom dress look. The dress showed off her new weight loss without being tight from head to toe and her hair and make-up were the perfect complement to her new silhouette. It said "Look at ME"!
My other favorites were Halle Berry in her gown by Marchesa. She always gets it right. Natalie Portman was stunning in her purple dress by Rodarte even with baby on board. The extra weight looked great on her. Sandra Bullock looked wonderful in the red Vera Wang, and Hilary Swank's Gucci was gorgeous.
I thought that the combination of Reese Witherspoon's ponytail and the black and white Armani made her look like my first Barbie. And I wasn't sure what Scarlett Johansson meant to do with her hair, but I think it failed the beautiful purple lace Dolce & Gabbana she was wearing.
There were some unflattering dresses and ill-fitting dresses worn by some but as usual Helena Bonham Carter gets my vote for worst dress. She has a habit of wearing too much fabric and having way too many focal points for her petite frame. I just think she would do well to hire a stylist.